FACT24 ENS Release 2.24.0.0
From 21 November the FACT24 ENS Release 2.24.0.0 will be available for you. The focus of the release lies on increased transparency in a persons confirmation through the alpha-numeric confirmation entry.
Alpha-numeric confirmation via SMS and internet confirmation
With every alarm, a confirmation request is sent to people who, among other things, ask when people can be at a certain place and whether these people are fine. With the numeric confirmation entry function it is possible to answer such a query with numbers, e.g. "Confirm with 1 that you are fine and with 0 if you need help".
With the new function alpha-numeric confirmation entry it is possible for the alerted persons to answer with a text entry, e.g. "Yes", "No", "Need help". This is possible via SMS and/or via internet confirmation.
The advantage of alpha-numeric confirmation is that a confirmation can now be entered freely. This means that there are no limitations by pre-application answers, nor do answers have to be assigned numbers.
Instructions for using alpha-numeric confirmation entry
Necessary pre-configuration: the alerted person must be assigned an SMS device and/or an e-mail device.
The alpha-numeric confirmation entry is possible only via SMS and internet confirmation.
In the FACT24 ENS administration interface, use the menu bar to select "Administration" and then "Alarms". You can now edit an existing alarm or you can create a new Alarm - by clicking "New alarm".
Then click "Further settings".
Now select in the field "Report type": "Alpha-numeric confirmation entry".
Then you can enter the number of desired digits for the Confirmation at "Expected number of digits for confirmation entry". The default is 2. Adjust the number as needed, as longer confirmations are truncated according to the number entered here. Please note: maximum 10 digits possible.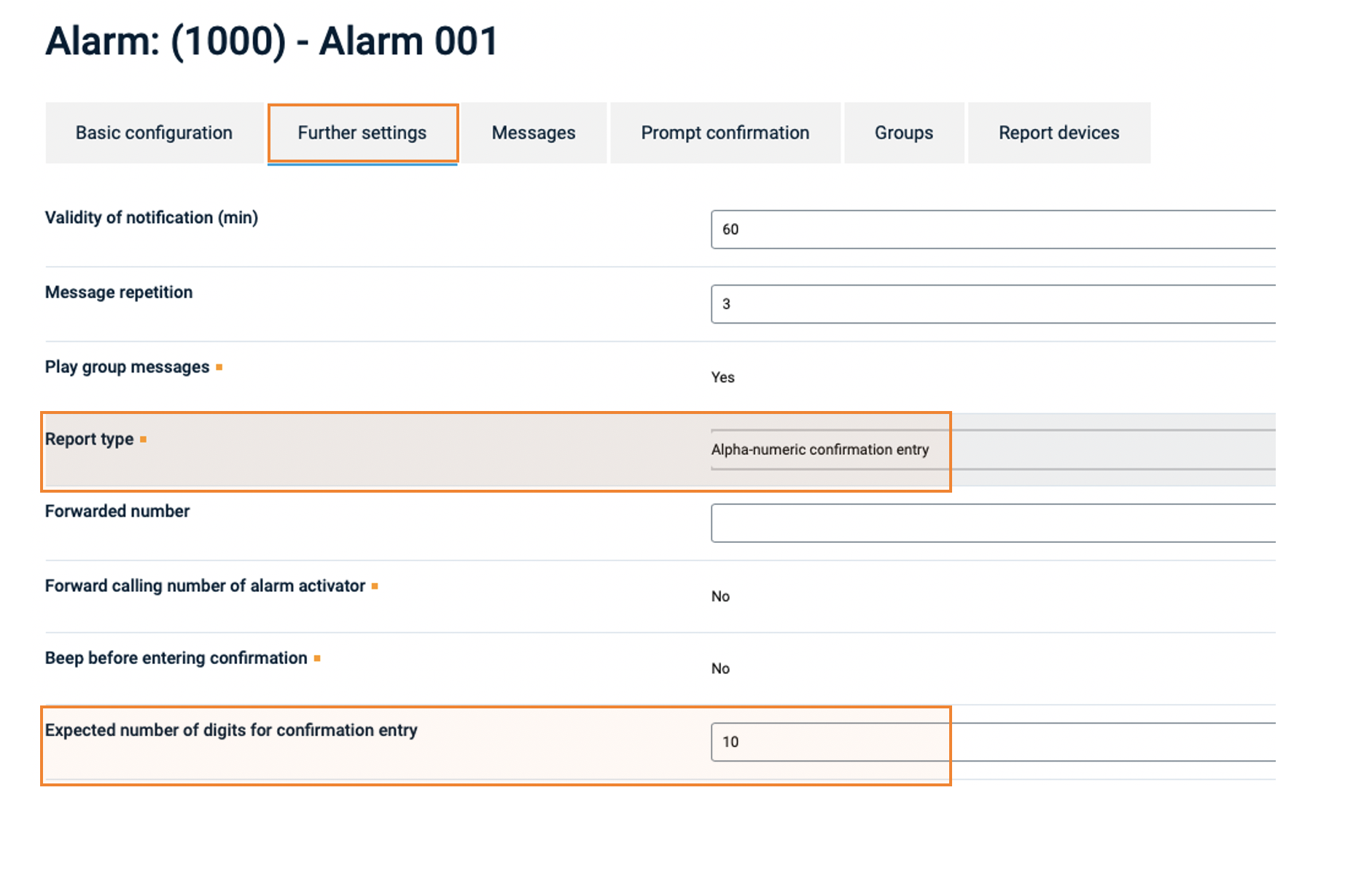 Fig.: Selecting the report type at the alarm level
The person who has been alerted is asked to reply by SMS or via e-mail with a confirmation link, e.g. to provide the current location. When entering the confirmation, a combination of letters and numbers is also possible - useful, for example, to add a house number when specifying the location.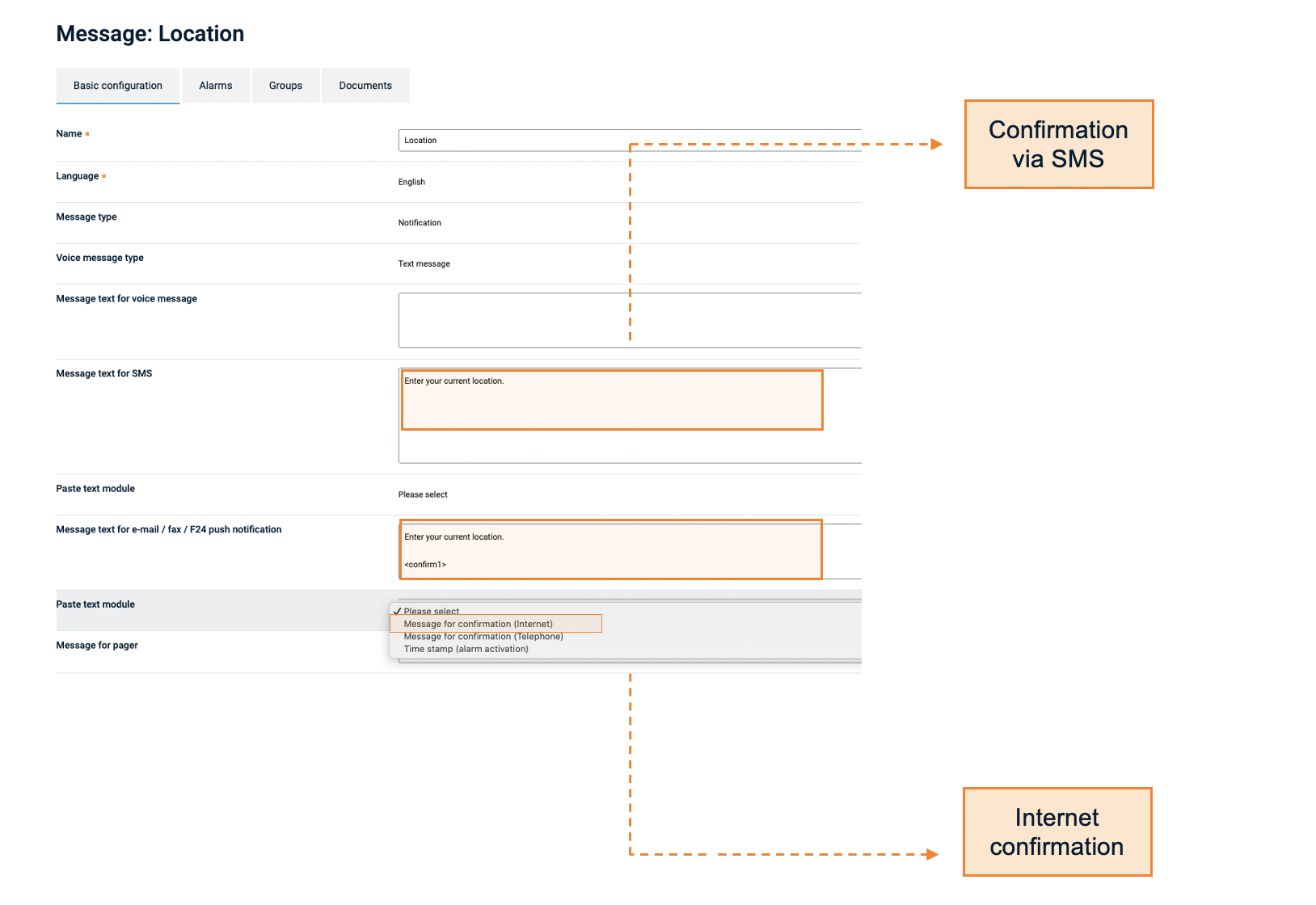 Fig.: Confirmation request via SMS and via Internet
The alpha-numeric confirmations can be viewed in the alarm monitor. In the column "confirmations" in addition to the numerical confirmations, the alpha-numeric confirmations are now also displayed. This confirmation entry is also included in the FACT24 Alert! App and can be viewed via the Collaboration Dashboards interface.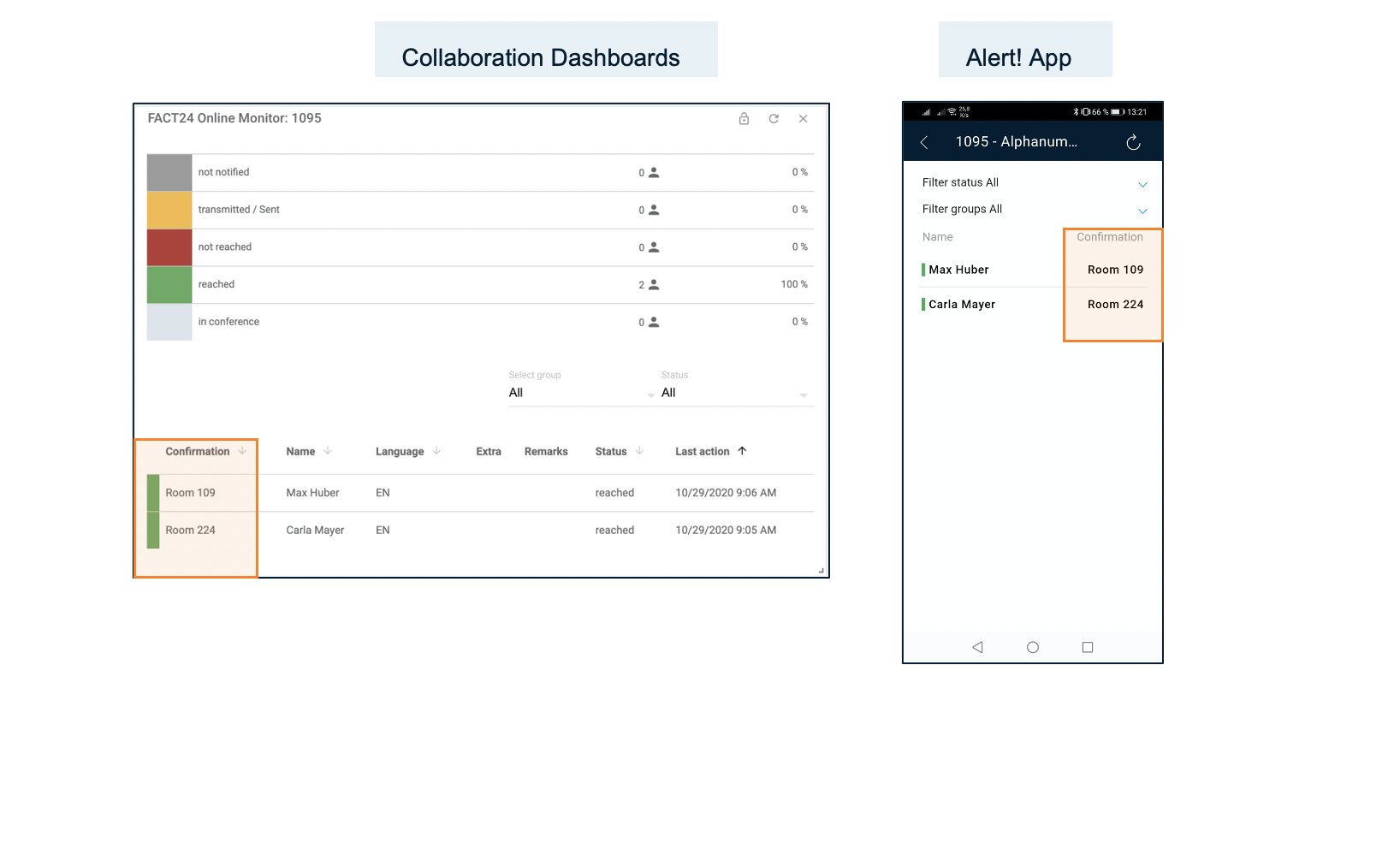 Fig.: Alpha-numeric confirmation in Collaboration Dashboards and Alert! App
Application example for the use of alpha-numeric confirmation entry

For example, alpha-numeric confirmation entry can be useful when querying the current location. A fire has broken out on a university campus with many building complexes. In order to be able to provide quick assistance, the emergency management needs the exact location of the teachers. Teachers will receive an SMS asking them to confirm their current location. They then reply with a text entry, such as Audimax or Room345. The confirmation appears in real time in the Alarm monitor, making it possible to find the teachers.
If you want to use the new functionality, alpha-numeric confirmation entry please contact your F24 representative. They will be happy to activate this function for you - free of charge for all FACT24 editions.
Detailed status codes for e-mail devices
The status information regarding e-mail messages has been enhanced and indicates possible reasons for the error in brackets. 
Example: "FACT24 server could not send the e-mail (possible reasons: DNS error, wrong domain, wrong network)"
or : "Recipient's server has rejected the e-mail (possible reasons: wrong mailbox, full mailbox etc.)"
---
Was this article helpful?
---