FACT24 CIM starter - crucial steps
FACT24 CIM enables you to proactively manage crisis situations across all organisational levels and including stakeholder management.
The solution is designed to start in the early phases of potential incidents, and supports a structured approach including an easy to handle task management. Evaluating the past and preparing for the future is essential and is what makes the difference in a critical situation.
The first data export for data synchronization with FACT24 CIM
Before you can work in FACT24 CIM, you must first carry out a data export for the whole enterprise in your FACT24 ENS Account. This data export also synchronises personal data from FACT24 ENS with FACT24 CIM.
In doing so, invalid personal data, e.g. persons with missing device assignment are not transferred. 
If personal data is invalid, the word "invalid" will appear on the FACT24 startpage under the overview of persons. Clicking on "invalid" will show you the reasons for the invalid personal data. In addition, existing invalid personal data can also be identified using the plausibility report (Operating -> "Reports & statistics").
This data export may take a little longer because your data is synchronised with FACT24 CIM. 
You can find out here how to always keep personal data up-to-date.

The Incident Workspace
In critical situations, structure is key. With FACT24 CIM all information is consolidated in one workspace. You can easily access the FACT24 Application for Emergency Notification Services, Crisis and Incident Management as well as the Collaboration Dashboards with all your data being automatically synchronised. Everything you need is in your incident workspace, and is accessible to all stakeholders. This is your digital crisis room accessible anywhere, anytime.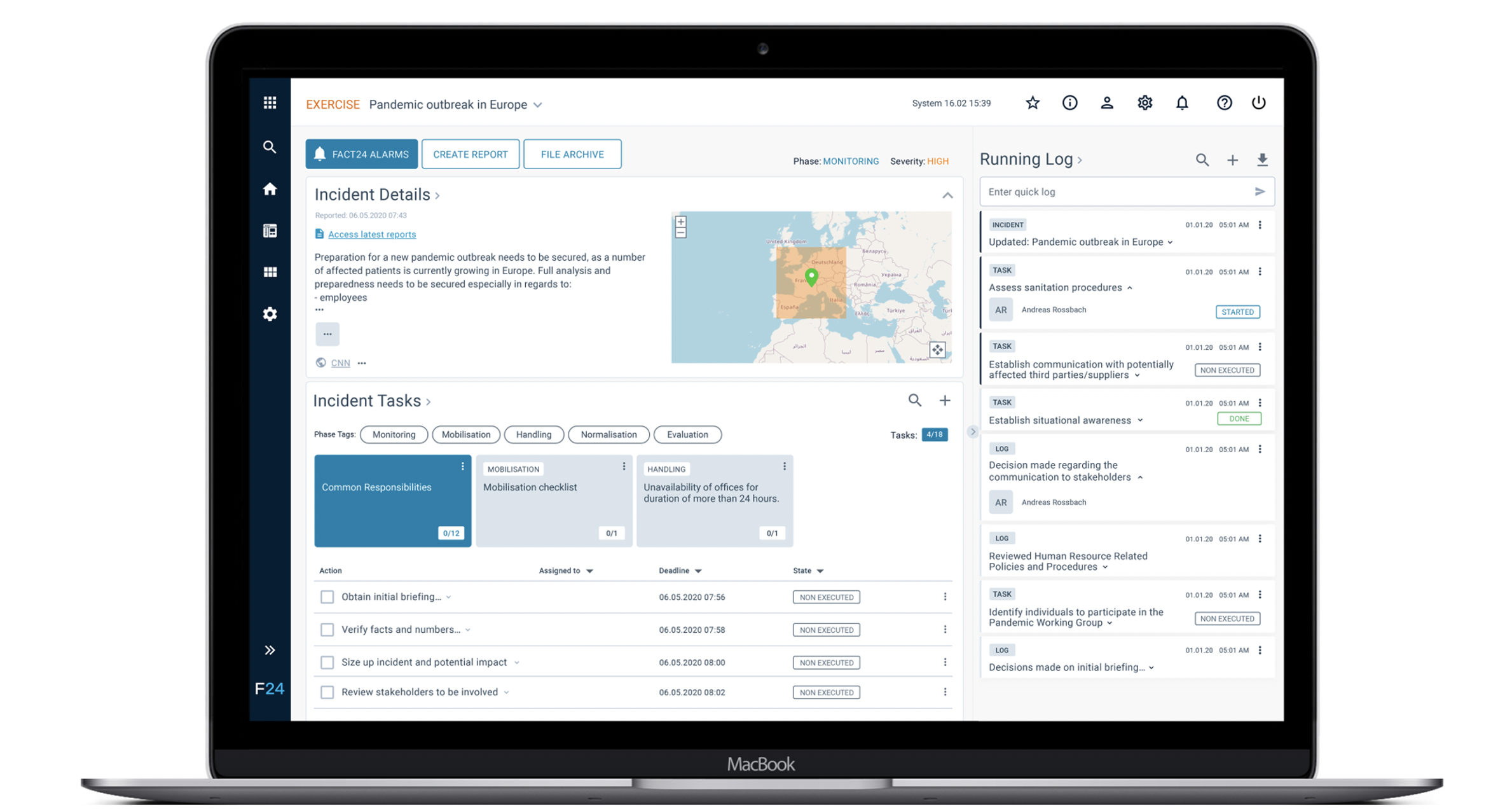 Fig. The Incident Workspace
Depending on what role you have, you can access the incident details, the phase and potential of an incident, read and add to the Running Log, delegate tasks and write reports. In addition, this overview also enables you to activate FACT24 alarms, access the file archive and create reports.

Here you will also find the core components of FACT24 CIM starter core components: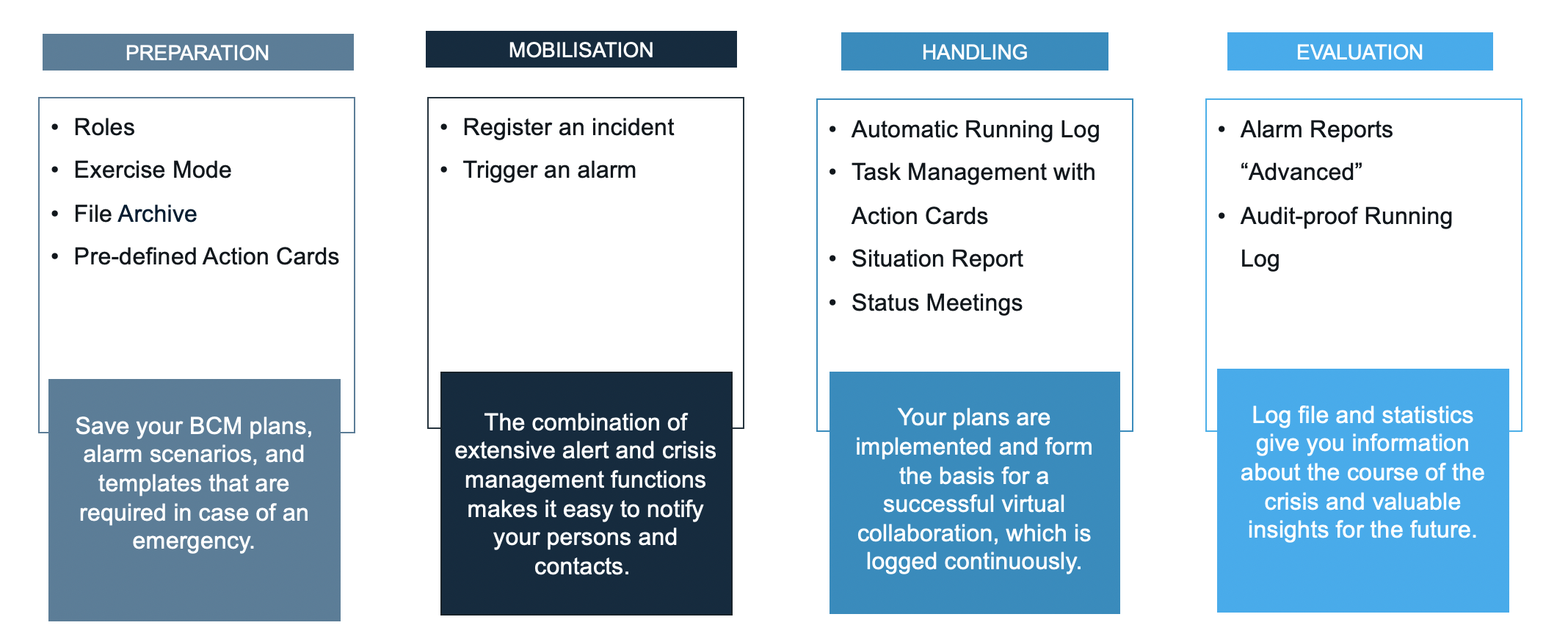 Fig.: The core components of FACT24 CIM starter
CRISIS PREPARATION
With the FACT24 CIM functionalities, you can save BCM plans, alarm scenarios and templates required in an emergency in advance.
Roles & Rights
The role allocation allows the assignment of rights according to the responsibilities of users. FACT24 CIM expands the existing 17 roles in FACT24 ENS by three additional roles:
18. CIM Administrator
19. CIM Crisis Management Team
20. CIM Crisis Staff
To be prepared for any crisis situation, it is essential to assign roles and the corresponding obligations. This clarifies: "WHO is responsible for WHAT, and WHEN."
For further information on the new FACT24 CIM roles, please click
here
.
When you login to FACT24 CIM starter, you have the option of choosing the "Exercise Mode".
With this function you have the ability to practise an emergency in advance. All key personnel can familiarise themselves with the tool as well as a possible procedure. The Exercise Mode also has the advantage that this type of test area is separated from normal mode.

The pre-defined Action Cards function as predefined checklists. They are created and implemented as preparation for a crisis situation based on your BCM plans.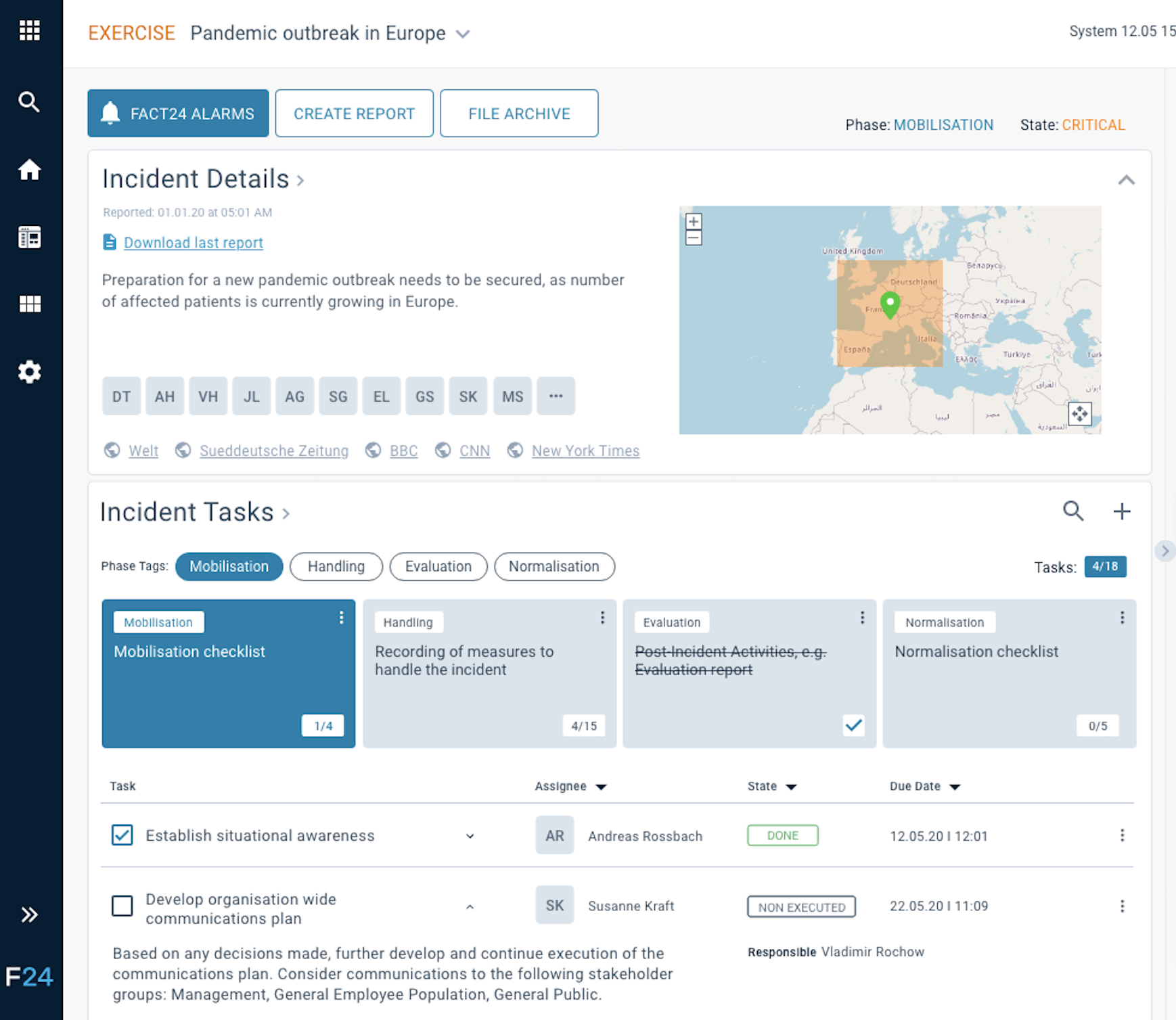 Fig: FACT24 CIM Action Cards
Actions Cards provide clear direction and actions to be performed in the stressful moments of a crisis and can even be added or assigned to experts outside the team or organisation. When an incident is created, FACT24 CIM automatically pulls pre-defined Actions Cards specific to roles, incident type and severity.
The Action Cards can be accessed in the Incident Workspace by clicking on "Action Cards". If you want to create a new Action Card, go to "Pre-defined Action Cards" via the menu on the left and create a new Action Card.
ALL your plans are located in ONE place and can also be accessed if your own IT environment is not available.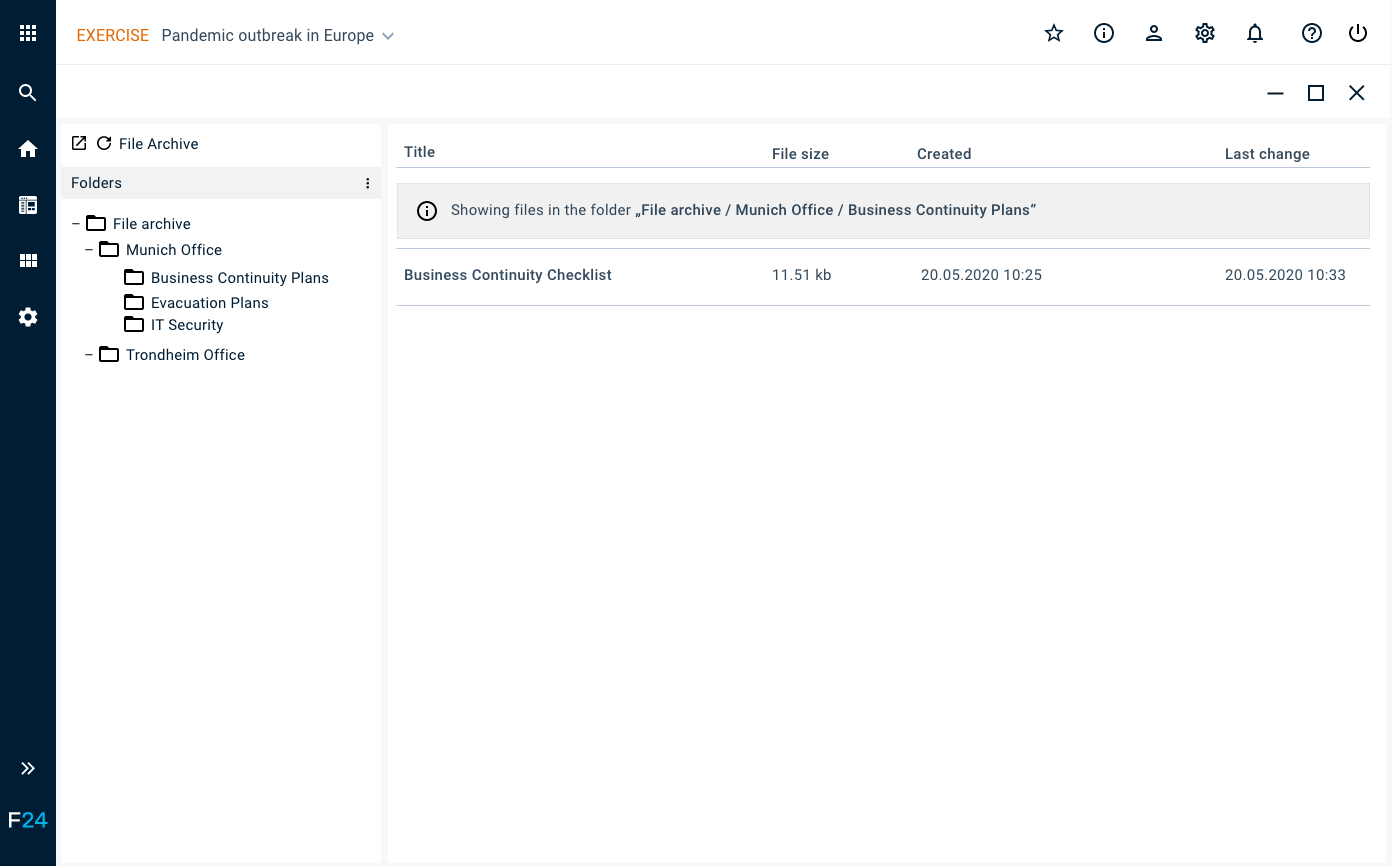 Fig.: File Archive
CRISIS MOBILISATION
The combination of extensive alert and crisis management functions makes it easy to notify your persons and contacts.
Register a new incident or switch incidents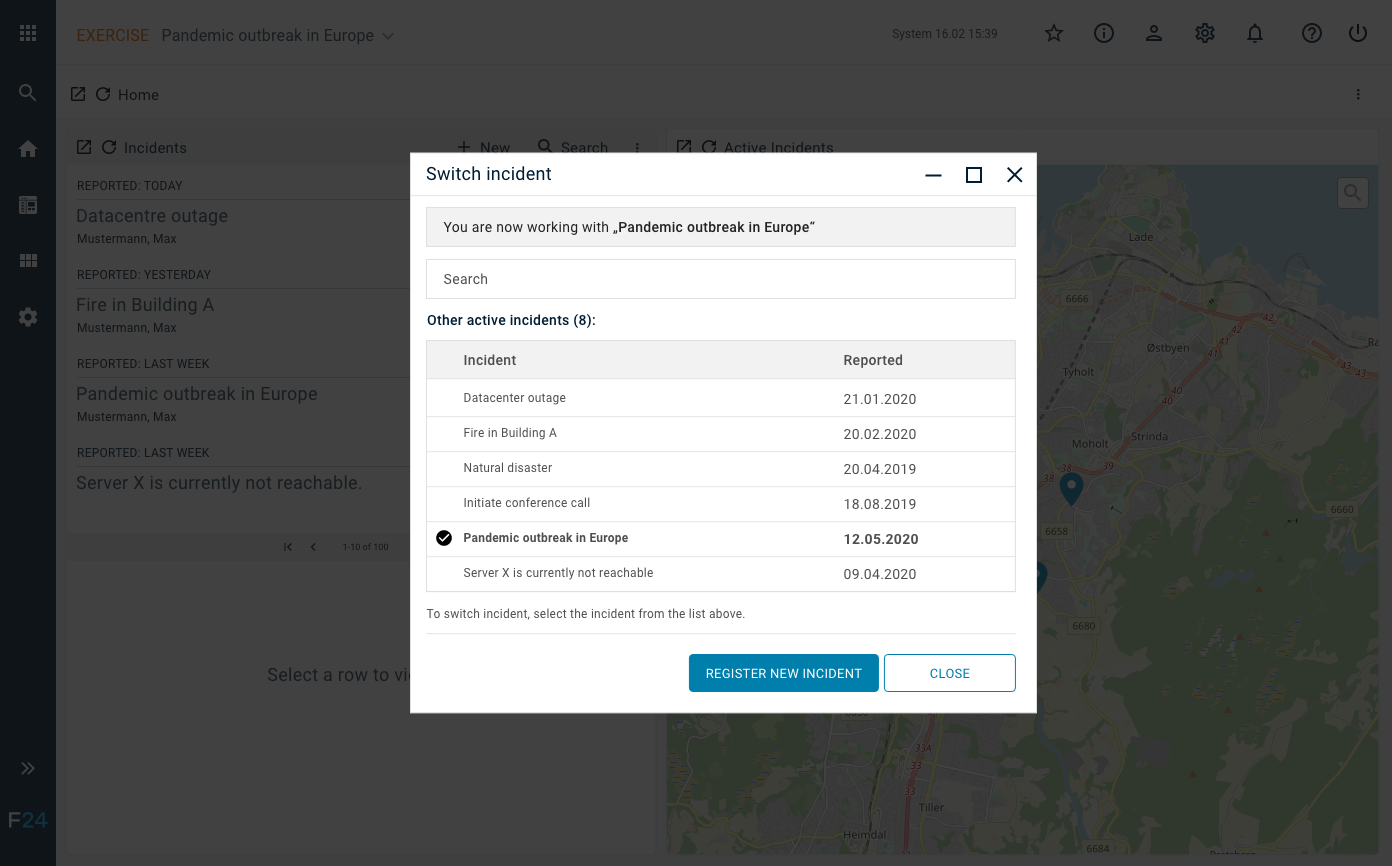 Fig.: Switch incidents
The incident-based approach makes it possible to focus your attention on the information that is relevant, but still have a clear separation of information by using one specific workspace for each incident. You can easily switch between incidents and work with different teams on various locations and different topics. With FACT24 you can operate multiple incidents and their execution at the same time even over a long period of time.
Activate an alarm
Immediately activatable alarms can be prepared with enough time beforehand using the extensive functionalities of FACT24 ENS. With one click, these predefined alarm scenarios are ready for call-up. In the event of an emergency or crisis, a large number of people can be quickly notified.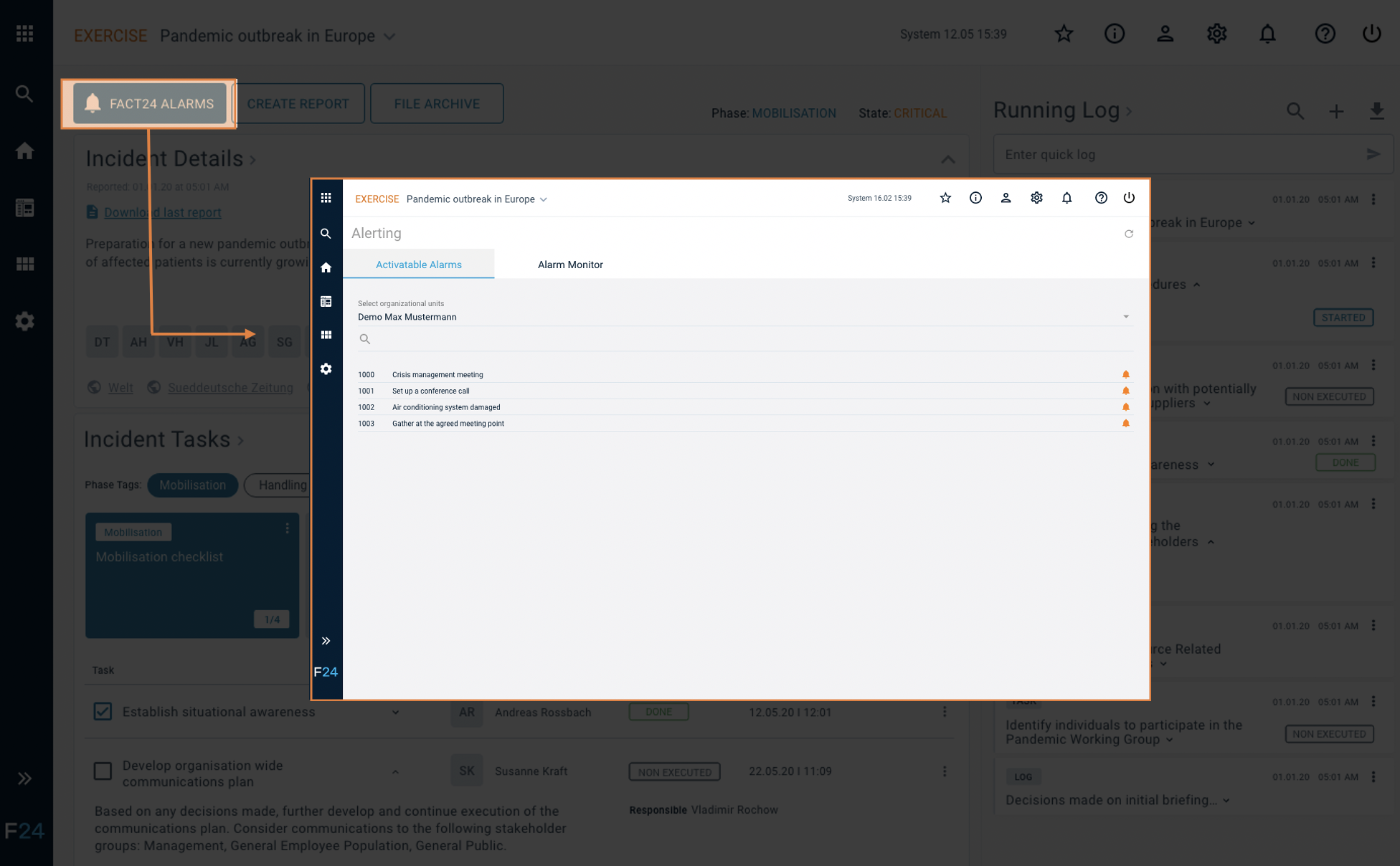 Fig.: FACT24 trigger an alarm
CRISIS HANDLIING
Your plans are implemented and form the basis for a successful virtual collaboration, which is logged continuously.
Running Log
Registration of an incident automatically starts continuous logging. All information, decisions and actions are entered automatically. The documentation can be exported as an audit-proof PDF file.
Furthermore, a log entry can also be entered manually, for example if an unscheduled phone call has taken place and important decisions have been made.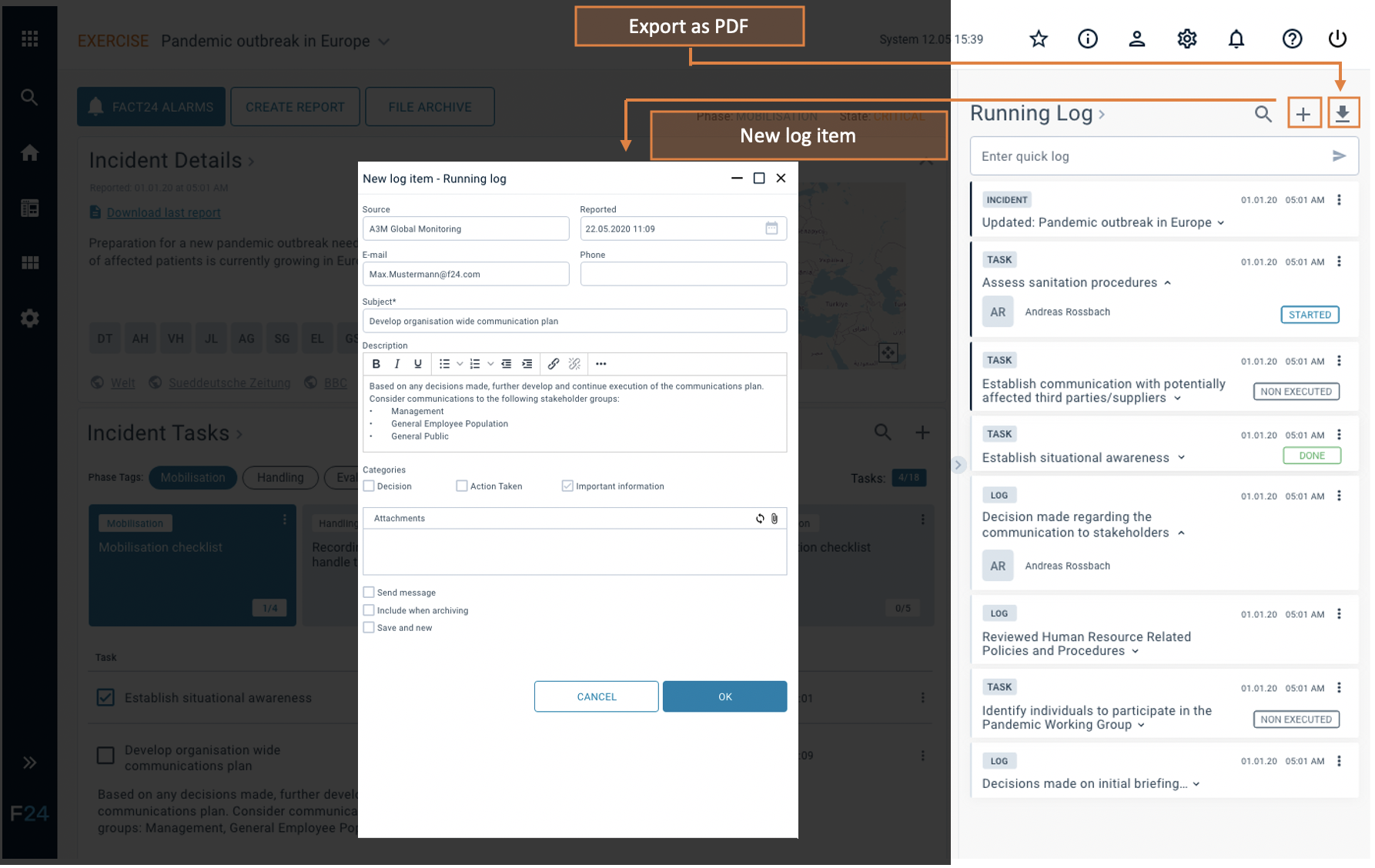 Fig.: Enter a log entry
Task Management
Tasks offer individual response options, can be supplemented by file attachments and clearly displayed on a Kanban board. Users with the corresponding authorisation can create tasks and assign them to other users and experts outside the system.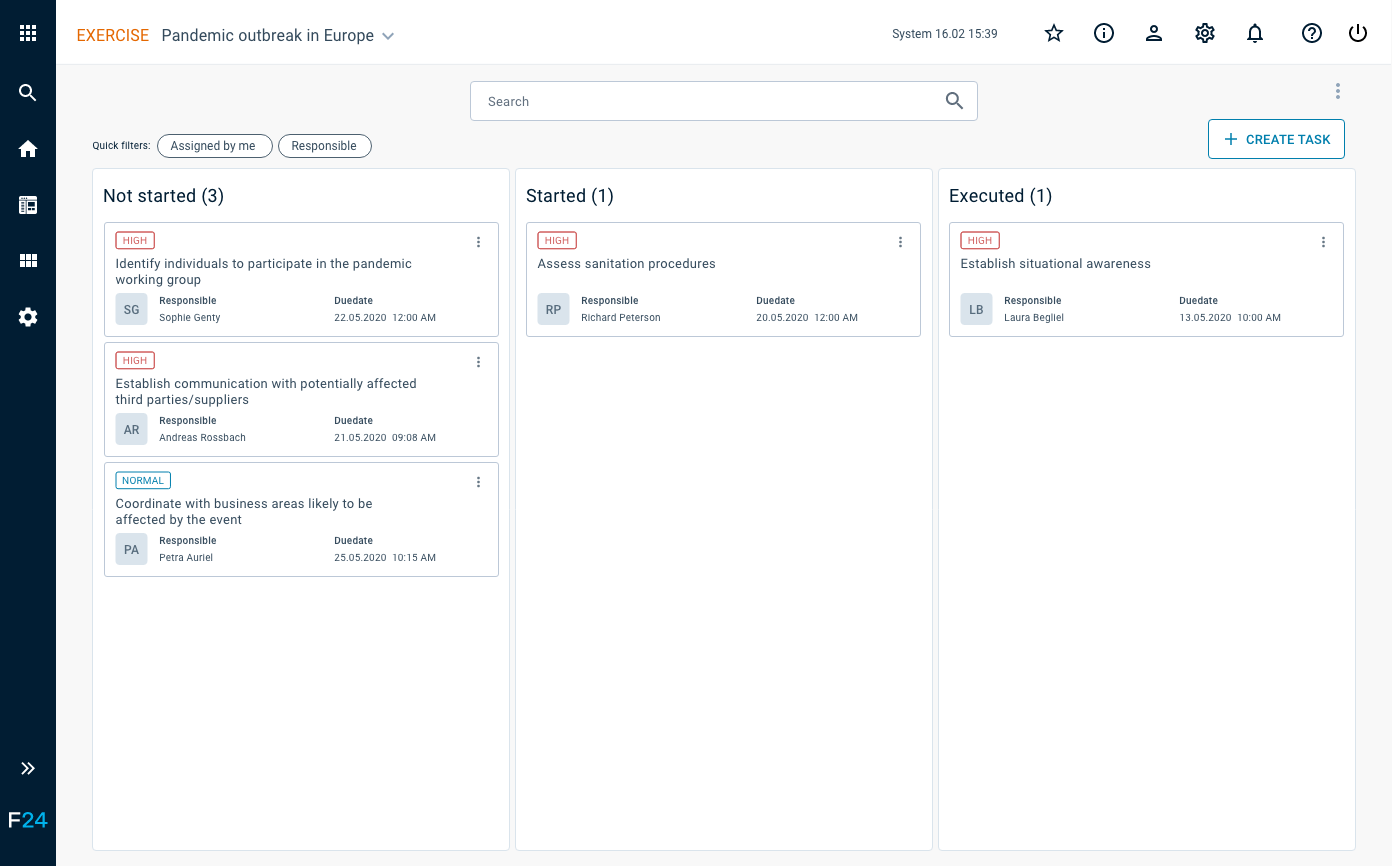 Fig.: Task Management
CRISIS EVALUATION
Easily consolidate situation briefs and management reports with predefined templates within FACT24 CIM. The integrated solutions log every meeting, action or task automatically and accurately. Each step taken is traceable, revision-secure and can be exported at any time.
Audit-proof Running Log

The detailed log of each incident can be downloaded as an audit-proof PDF file and provides an overview of all actions and decisions.
---
Was this article helpful?
---