How can I link the Collaboration Dashboards to my FACT24 account?
Linking your dashboard to your FACT24 account:
When you first register for the Collaboration Dashboardsl, the following three widgets appear when you create your new dashboard: Tasks, Contacts and Rooms
You need to link your Collaboration Dashboards with your FACT24 account to display more widgets.
When you do this, data you have already saved on FACT24 are displayed in your dashboard. The visibility of the data depends on your roles as a FACT24 user. For example, if your role includes authorisation to activate alarms (Roles 7 to 10; see Roles in FACT24), the alarms you have saved in FACT24 are displayed on the dashboard and can be activated from there.
To link the dashboard to your FACT24 account, click the cogwheel icon at top right, then FACT24 Account.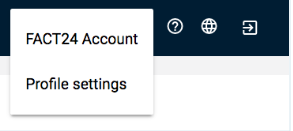 Fig. Linking to FACT24
A new window opens. Enter your user name and password in the boxes provided, then click SAVE to create the link with FACT24.

Fig. FACT24 user data
---
Was this article helpful?
---