Caller ID verification in FACT24
In this article you will learn how to verify a Caller ID in your FACT24 account. To activate this function, you may need to take action:
If you have set an F24 number as Caller ID or simply left this value blank, you do not need to do anything and we will activate this service for you.
If you have set a custom number as Caller ID (often an extension of your company number or another local number), please go through the short verification process after the 10th of June 2023.
Step-by-step instruction:
The Caller ID verification needs to be done for every organisational unit separately. You have two possibilities to make sure you use a verified Caller ID and thus the alert is delivered reliably: 
A) Use an F24 verified Caller ID 
We deliver several local phone numbers out of the box which you can use as a reliable Caller ID.  
These are the so-called local call-back numbers, which ensure that a recipient can give feedback to an alarm by calling back that number, even if he has missed a call. 
You can simply choose these numbers directly on the Alarm settings page, but as a reference, we also provide the numbers here. We suggest selecting the country with the belonging number, where the recipients of the Alarm stay. 
This is the list of our traditional call back numbers: 
| | |
| --- | --- |
| Country | Number |
| Austria | +43800364303  |
| Belgium | +3222007531  |
| Chile  | +56227609045  |
| France | +33187153630  |
| Germany | +4989954647540  |
| Germany | +498955261540 |
| Ireland | +3531800655110  |
| Mexico  | +5218001238353  |
| Spain | +34900978303  |
| Sweden | +4620791016  |
| UK  | +442035649855  |
| UK | +448000156198 |
| USA  | +18334511636  |
Next to them we also introduce additional new call back numbers: 
| | |
| --- | --- |
| Country | Number |
| Austria | +43720080252  |
| Canada | +17828245240  |
| Chile  | +56228409191  |
| France | +33176285117  |
| Germany | +4915735980097  |
| Singapore | +6531298230  |
| Switzerland | +41 315391580  |
| UK  | +441905672366  |
B) Verify your organisation's owned number 
If you want to use a company specific number/extension to be displayed when alarms are received, you need to verify it before. In this step by step guide we have explained the process to verify your own organisation's phone number as caller ID.
After verification it is very likely the number is displayed, but ultimately depends on the telecommunication provider.
On the FACT24 Homepage, go to "Setup" and then click "Caller ID".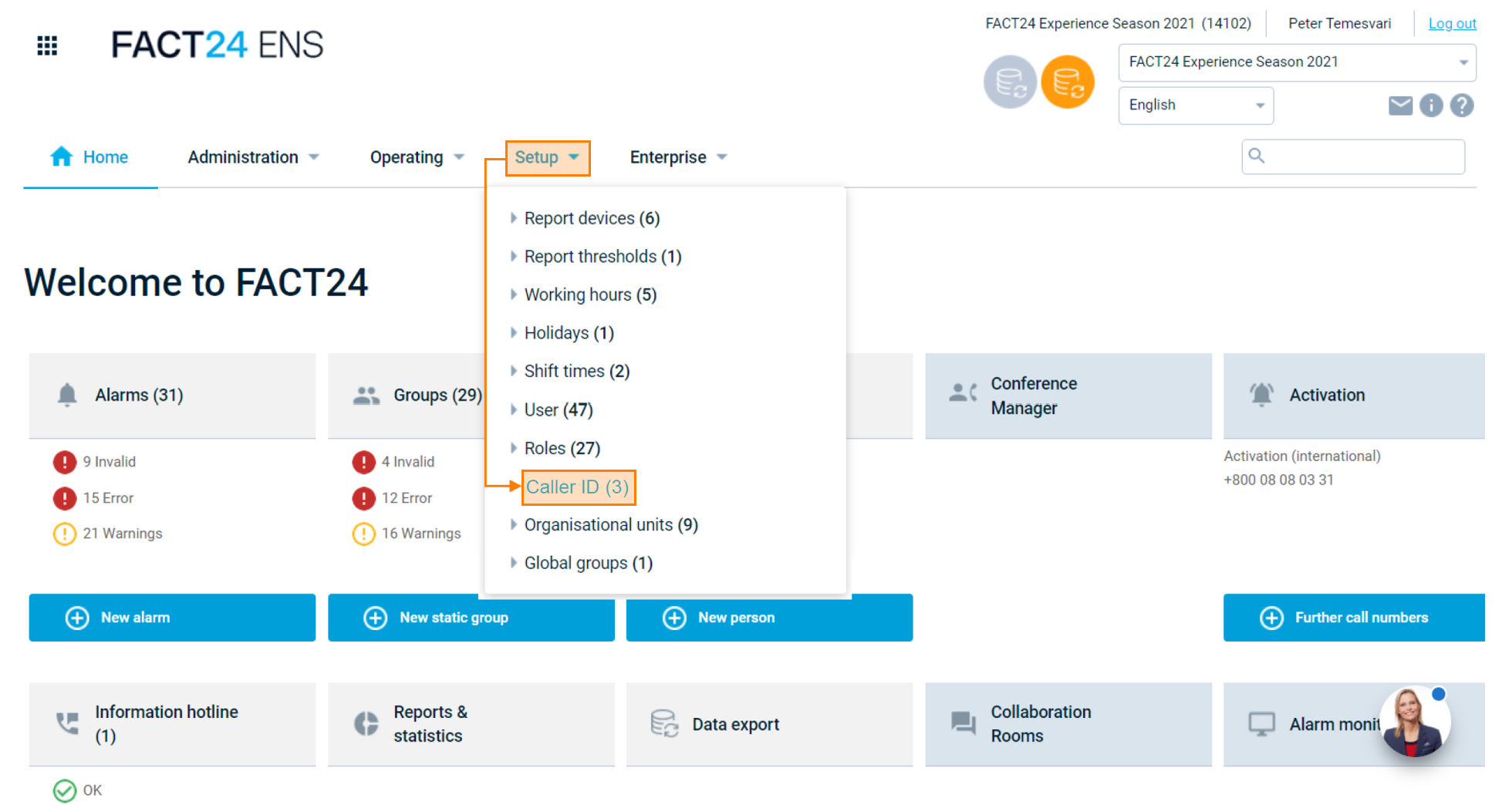 On the next page it is shown which phone number needs verification. Click the pencil icon on the left of the respective number and then "Edit".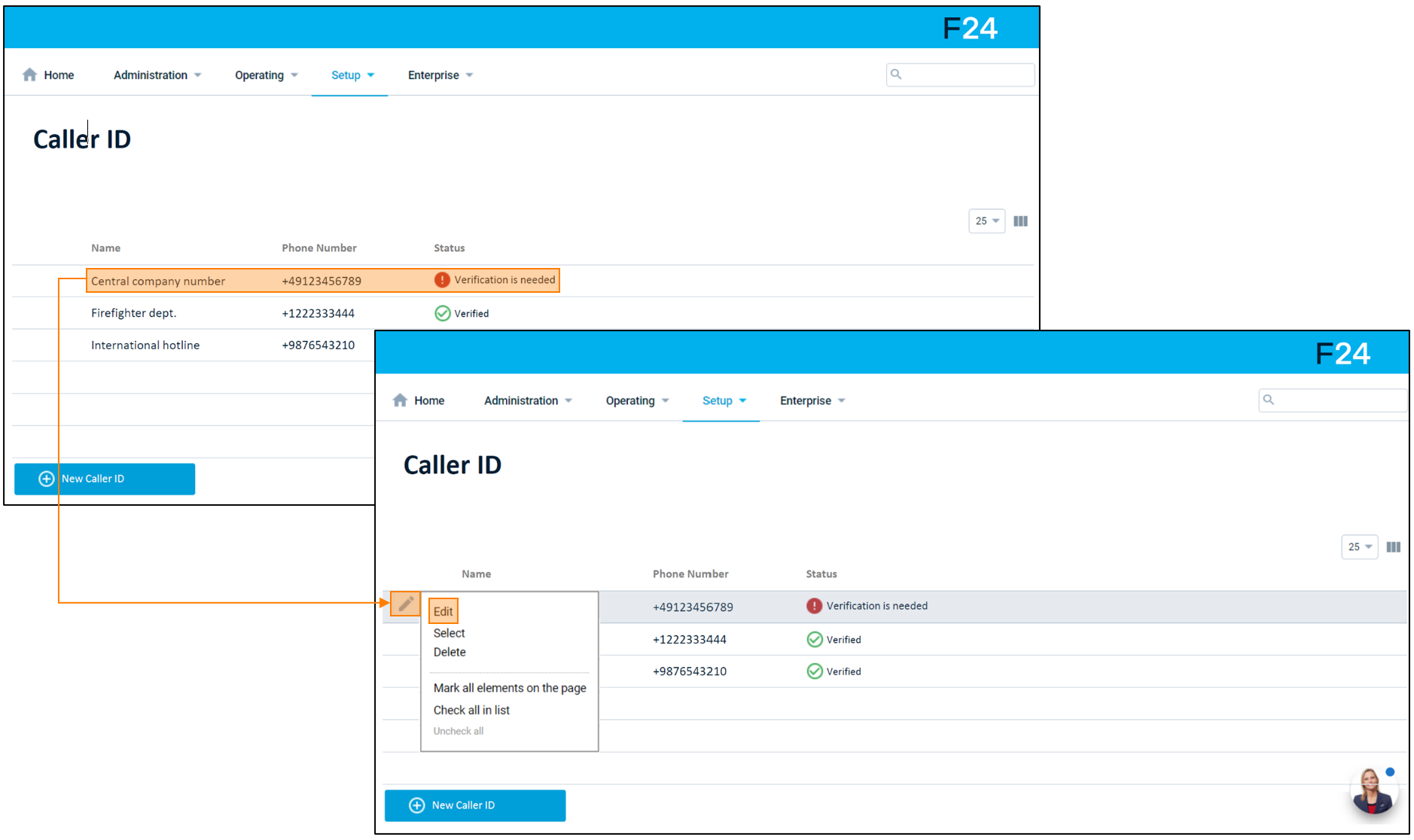 In the settings, click "Verify Caller ID". A window opens with instructions on how to start the verification process. Click "Start Verification".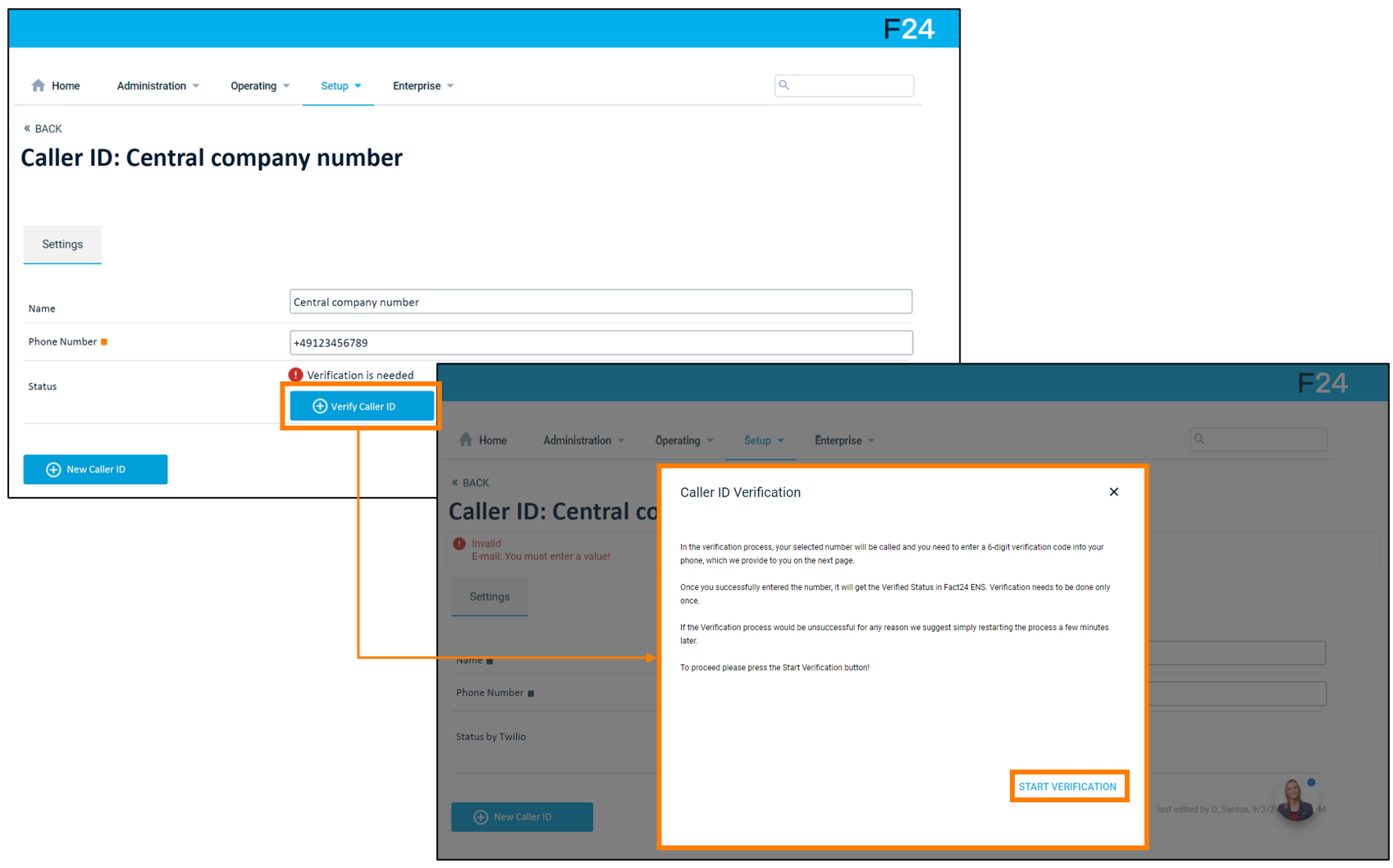 Another window will pop up with further instructions.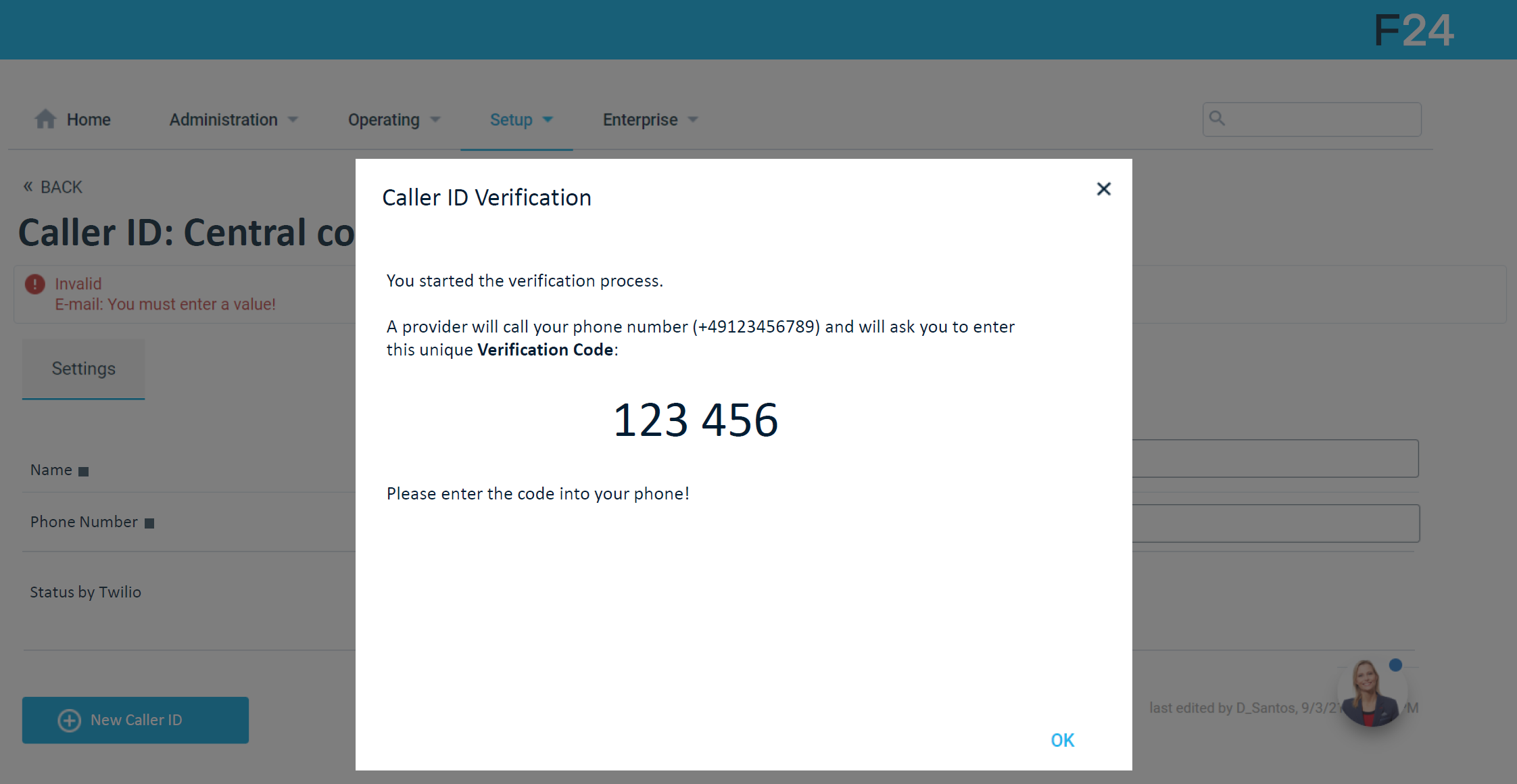 If the code was entered correctly, the verification process was successful.
Now to set up the verified number you click "Administration", then the respective alarm you want to assign the Caller ID to and go to "Further settings". Under "Caller ID" you can now choose the previously verified number as Caller ID.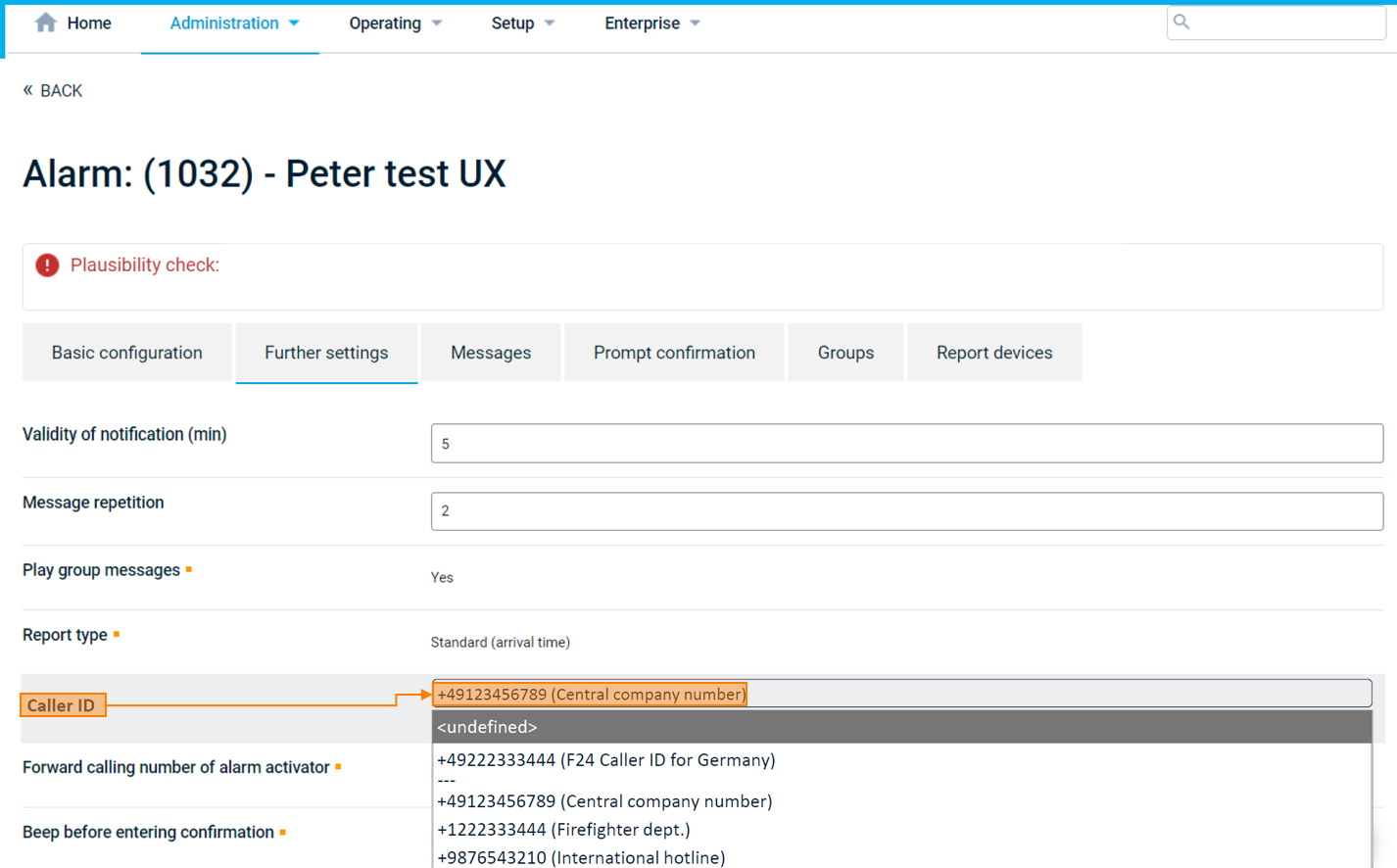 You can also set verified numbers as default numbers transmitted in alarms throughout Organisational units. For this, go to "Setup", "Organisational units" and "Basic configuration". Here you will be able to define the previously verified number as "Default number transmitted in alarms".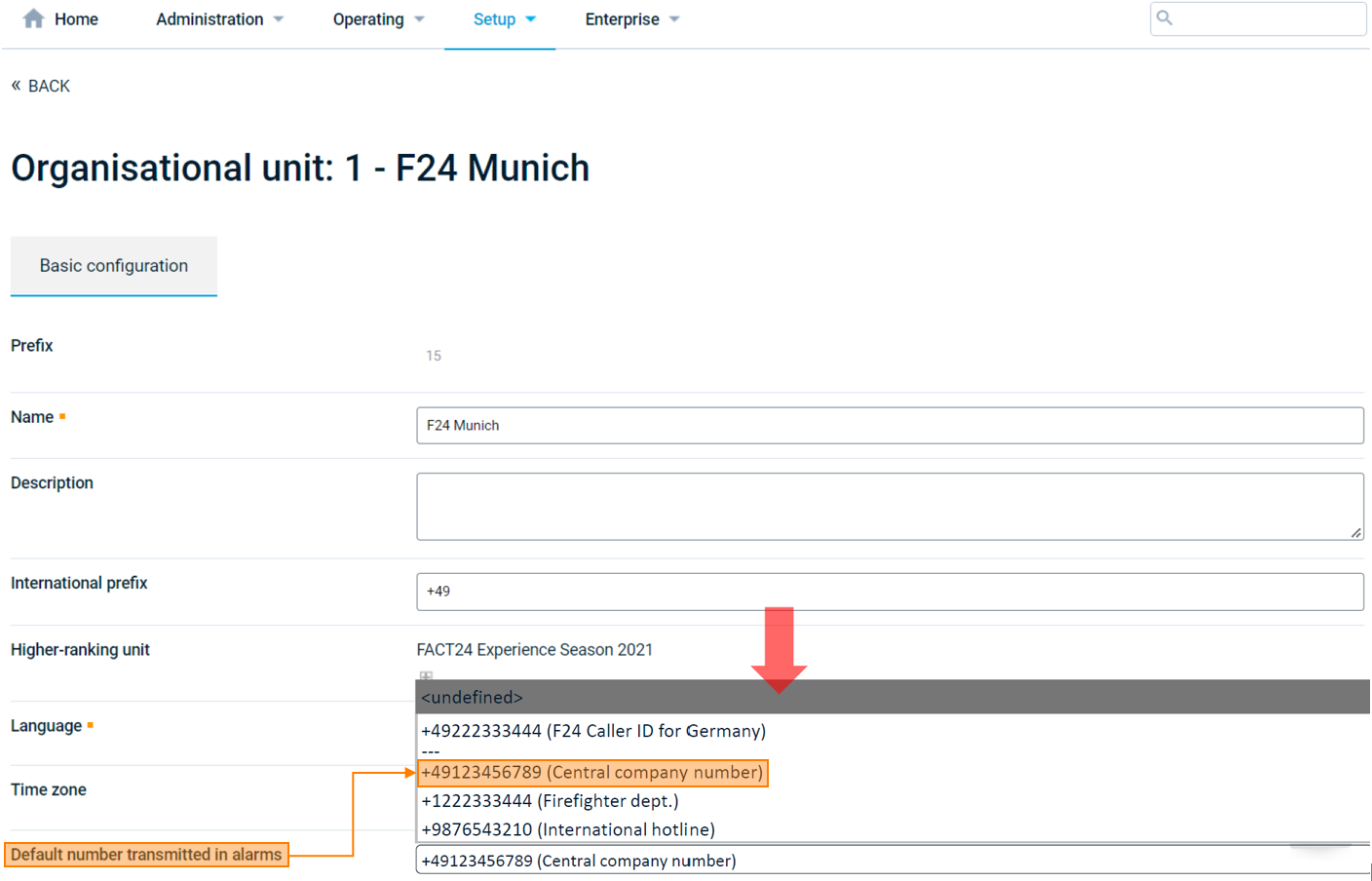 ---
Was this article helpful?
---